Growth Strategy
Basic Policy
The Simplex Group has drawn up a medium-term business plan (fiscal year ending March 31, 2022 to fiscal year ending March 31, 2024) that will suitably respond to the expected market environment and changes in client needs, and is a part of measures we will take to achieve further growth.
In the medium-term business plan, we aim to achieve sustainable growth and high profitability by setting out three themes to focus on: expanding our business domains, deep diving into our business domains, and recruiting and fostering talent.
Illustrative of Mid- to Long-Term Growth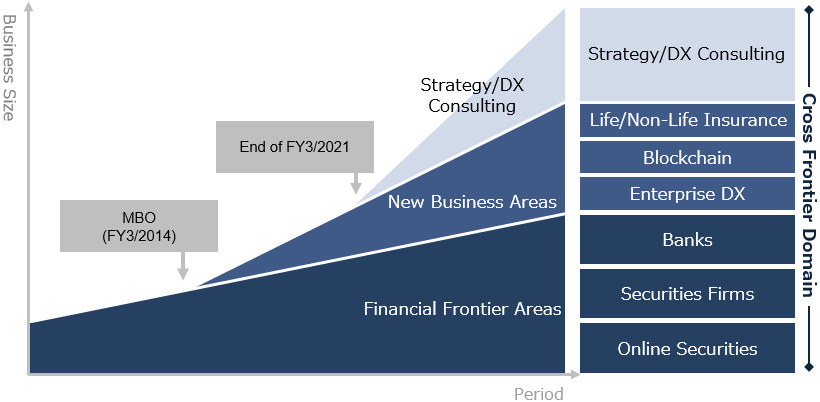 Focused Measure
#01 Domain expansion by strategy/DX consulting
We will strengthen our strategy/DX consulting through primarily Xspear Consulting, Inc., the spearhead of our business domain expansion. By pressing forward with hiring of professional talent with many years of experience in top-tier consulting firms, we will open new domains driven by consulting in fields such as finance, retail distribution, construction, manufacturing, and government.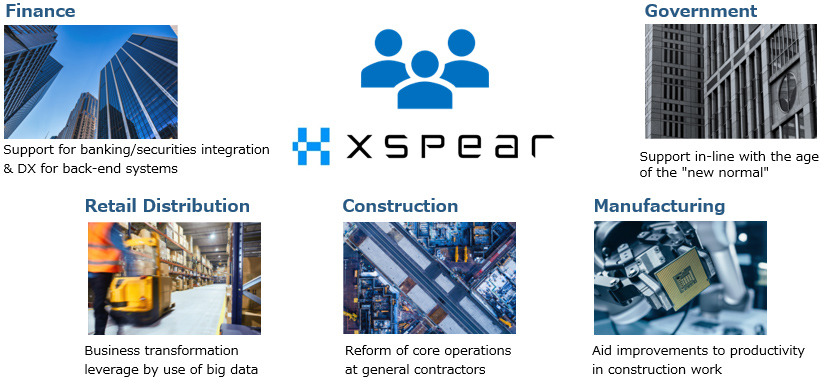 #02 Deep dive into business domains by leveraging the Simplex Way
In the Financial Frontier Areas, we will achieve steady growth by providing high value-added services as a DX partner for financial institutions. In new business areas, we will progress a strategy of aiming to realize high profitability in domains with high barriers to entry by adhering to the Simplex Way and leveraging our abundant experience and expertise in the Financial Frontier Areas gained by introducing new technology ahead of other industries.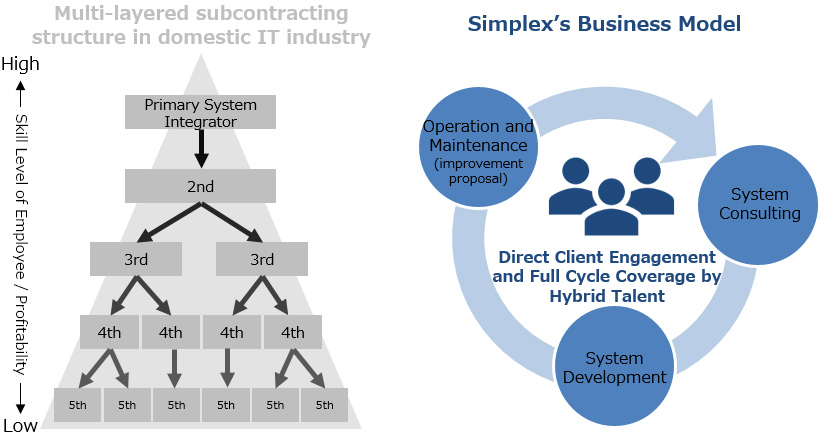 The Simplex Way is a word coined by the Simplex Group. It refers to a business model in which a project team formed by hybrid talent proficient in both business and technology is responsible in all aspects from consulting, design through to system development, operation and maintenance, and provides comprehensive technology solutions with full cycle coverage and direct client engagement.
Multi-layered subcontracting structure which the prime contractor outsources work to subcontractors in stages is common in the domestic IT industry. Simplex is one of few companies who stick to direct client engagement that we are always in touch with actual users and undertake projects directly from our clients, and do not unload projects to subcontractors.
#03 Further focus on hiring new graduates who have high potential
With a hiring policy that blind to nationality, age, gender, and work history, we will further strengthen hiring of new graduates by our applicants' core abilities and potential as businesspeople. By continuing to adhere to the Simplex Way, we will work to foster our core talent who will engage in DX for our client companies.
#04 Hire and foster professional talent who are strong in specialized areas
To expand and deep dive into our business domains, we will work to stay at the cutting-edge of technology indispensable for DX, such as AI, blockchain, and cloud computing. We will strengthen mid-career hires and foster talent who are strong in specialized areas, focusing on competency leaders selected for each key technology.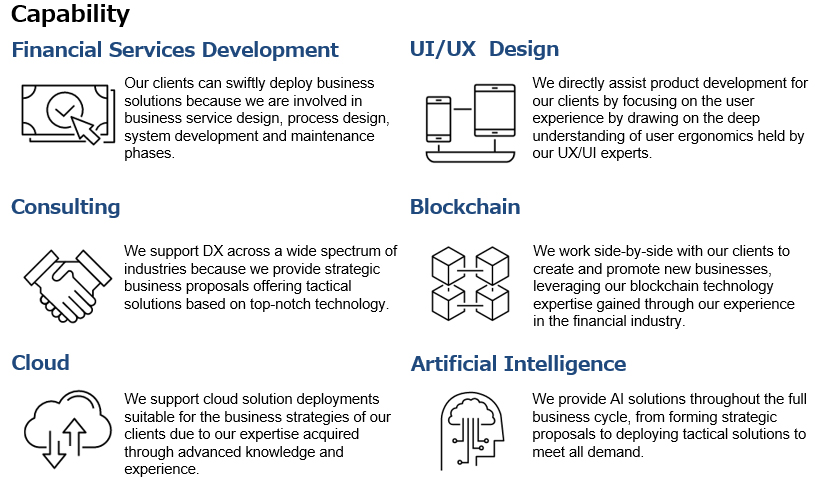 Glossary
Financial Frontier Areas
We define Financial Frontier Areas as an areas in which we provide support from a technological aspect to business sections such as profit-making operations and risk-management operations at trading desks in the front office of a financial institution. Banks, securities firms, and online securities are our main clients.
Cross Frontier Domain
We define Cross Frontier Domain as domain which encompasses all business areas where technology plays a vital role in improving our clients' profitability. In other words, the term refers to a domain in which technology and business are in an indivisible relationship, and it is possible to expect further business development by applying technology.
Financial Frontier Areas is where business is propelled with technology as the main driver and is thus a major Cross Frontier Domain. Also included as Cross Frontier Domains are new domains such as life insurance, non-life insurance, and blockchain into which the Simplex Group has recently expanded, and our strategical/DX consulting services which are provided on a cross-industry basis.
Enterprise DX
We define enterprise DX as specific areas within the Cross Frontier Domain in which we have not achieved a certain threshold level of revenue.