Services
We comprehensively engage in all phases of technology deployment from strategic consulting, design, and development to operation and maintenance.
Since its founding in 1997, Simplex Inc., our group's main business unit, has been supporting Japan's top financial institutions as their technology partner.
We have built our track record by delivering mission-critical systems for capital markets, and by creating new generation applications focusing on user experience. We are now recognized by many clients in a wider variety of industries. Our clients come from not only finance, but also leading corporations and public sectors. We have been actively assisting all of them with their Digital Transformation (DX) projects.
Service Menu
We provide our solutions throughout the clients' full business cycle coverage. We are responsible in each and every phase of strategic consulting, design, development, operation and maintenance of our clients' business. The in-depth and thorough work of our professionals in both business and technology lead our clients' business to success.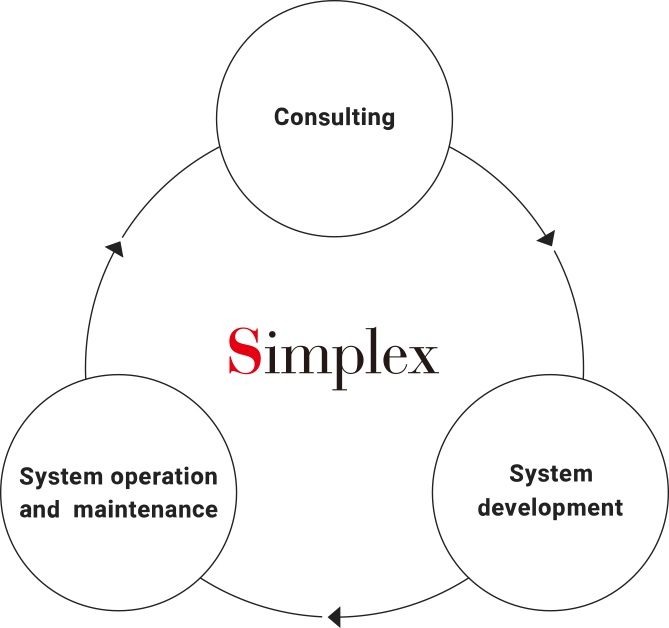 Strategic/DX Consulting

Xspear Consulting, Inc., our subsidiary dedicated to consulting services in DX, takes a lead to deliver strategic proposals and tactical support based on the latest technology stack, such as AI, IoT, Blockchain, RPA, UI/UX design, and Cloud. We customize strategic consulting services to fit various office levels from C-level to business planning divisions. The services include forming management strategy, business strategy formation, organizational reform, and business process transformation.

Systems Consulting

Our professionals are proficient in both business and technology, and work closely with our clients to develop and support strategic IT planning and systems specifications from a management perspective. We look at the overall scope of the systems deployment from the clients' business perspective, and at the same time, consider how the system can be refined later after the system is deployed. We believe our value propositions are in taking the initiative and providing leadership as IT professionals dedicated to our clients.
Systems Development

In our Systems Development service, the team of professionals involved in the systems consulting phase will continue to oversee the actual development. When appropriate, we use our industry-proven library of software built in-house which we keep improving over time in order to optimize the development cycle, and at the same time, we secure the robustness and stability of the resulting system. With this efficiency, our professionals can focus their talents on developing key features that give our clients competitive advantages and high value-added solutions.
Operation and Maintenance

Our teams always have long-term partnership with our clients in mind. Not only are they involved from the consulting phase to the development phase, but they also monitor the system 24 hours a day 365 days a year standing by in case system troubles occur. Because each team has a good understanding of the clients' business, having worked on the earlier phases, they can conduct constructive tasks during the maintenance phase. For example, they can perform business fit/gap analysis, review business strategy, and prepare system improvement proposals. We provide these services proactively because they are key to success in DX projects.

Shared Service/SaaS*

We provide SaaS services for a wide range of clients. These services run on systems that we have built ourselves over the years based on accumulated expertise and experience in respective industries. Our SaaS services are hosted by cutting-edge IT and mainly support the financial industry. However, because they are so cutting edge, our SaaS services are also favored by non-financial firms wanting to enter financial services for their client base, as well as by financial institutions wanting to provide added financial services.

SaaS: Software as a Service